A generational change in payments
Why the plastic fantastic era is over
In a clarion call to the financial services sector, last month ME Bank executives told employees to stop expanding the bank's credit card products citing a "massive structural change" in the credit card market as consumers switch to Buy Now, Pay Later (BNPL).
The figures from the Reserve Bank confirm that structural change. The number of personal credit accounts has fallen by roughly 1 million since January 2018 and the drop in the quarterly figures has been continuous at a steady pace.
So, far from the short-lived, millennial-only customer case that was touted by early market commentators, BNPL is now an established and popular alternative amongst all consumers. What's more, the evidence points to the fact this payments evolution is good for us.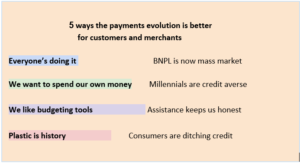 Like any market shift, there are early adopters who drive take-up and are bellwethers of change. In the case of BNPL, it is millennials leading the way. Then the mass market often catches up, taking the products and services mainstream.
So, does BNPL have longevity? One of the greatest signals of a growing market is robust segmentation – the diversity of a market, not just the number of entrants.
When Payright entered the space 3 years ago, BNPL schemes had an average purchase price of $100. Since then, Payright has established a powerful market niche with purchases up to $20,000. Our focus goes well beyond the fashion and experience economy purchases facilitated by early BNPL providers, into more considered purchases from photography and furniture to home improvement.
What this tells us is not only that there is healthy, broader market opportunity, alternative payments are not a fly-by-night scheme, but a new way of life.